Integrated Cabin Management System retrofit solutions for the Gulfstream, Bombardier and Boeing family of aircraft.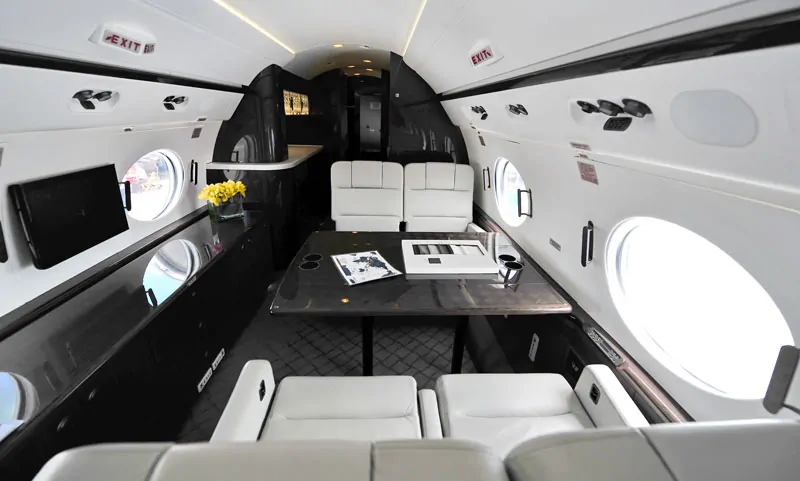 GIV and GV Legacy Cabin Management System Replacements
Restorations
Restore or replace worn out, obsolete, or un-reparable Cabin Management Systems and components with the SmartLink CMS. Our latest series of switch panels and touch screen controls have been specifically designed to be form, fit and functional replacements for vintage systems both minimizing downtime and woodwork replacements.
For a lot of us it's hard to believe that your GIV or GV is a legacy aircraft or that your cabin management system is obsolete but both are true.
The GIV and GV are tried and true aircraft and any improvements resulted in a new state of the art aircraft model.
The same is true with the Cabin Management System.
Obsolete systems can be replaced with newly designed systems that are also state of the art but require extensive cabinet or drink rail modifications which are usually very expensive and result in extended downtime.
DPI Labs has created a series of switches and controllers that are exact replacements for the former Pacific Systems components. Designed as fit and functional replacements, the DPI Labs switches and touch screens provide an elegant upgrade with minimal (if any) impact on your existing furnishings and veneers.
In addition to CMS we offer state of the art High Definition In Flight Entertainment systems including HD LCD displays, Blu-Ray DVD systems, and Digital Audio systems.
Depending on existing aircraft configuration a new state of the art CMS and IFE system can be installed in four to six weeks and it can be done in conjunction with any maintenance package.
Give your Gulfstream a new lease on life, contact us today, installation slots are still available for this year. Please contact us to make your appointment.
ReNu Switch Panel Restoration
Approximately 200 shipsets of the initial Lear 31, 45, 60 aircraft consisted of DPI Labs switch panels and controllers. These panels featured the 9000 Model Series composed of a plated metal construction. Years of use become evident by visible wear. Eventually, the panels require refinishing and controllers, new components. The ReNu program is a proactive approach to refinishing and overhaul. The switch panel, controller and plating requirements are identified in advance of scheduled downtime to minimize rework cycle. Entire shipsets may be renewed in 7 days or less with this streamlined process. Please contact us to learn more.