SmartLink Cabin Management Systems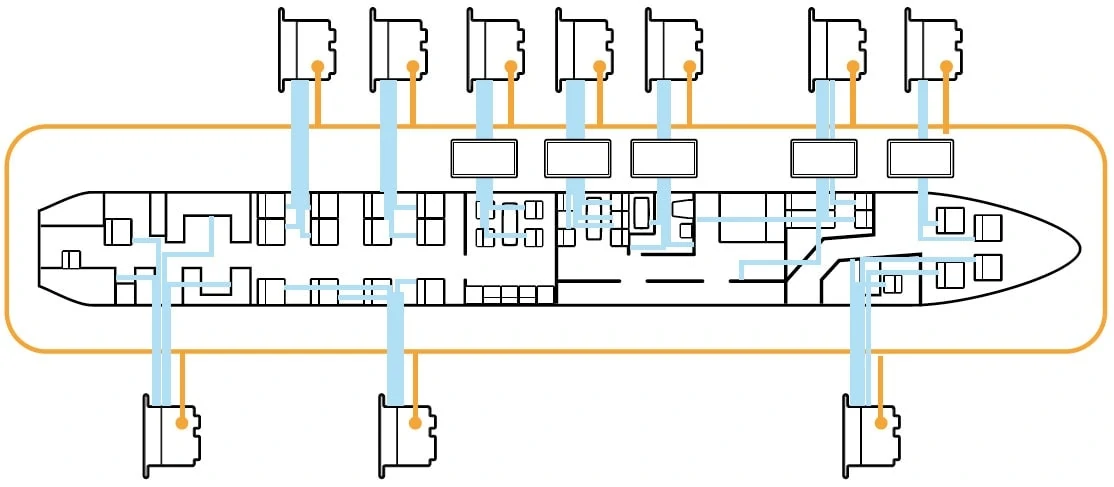 Cabin Management Systems
High-Definition entertainment systems, lighting, comfort, crew and galley controls are all at the touch of a button, touch screen remote or personal mobile device.
Today's leading-edge system architecture for integrated management of aircraft cabin control. The SmartLink Cabin Management System of today is based on DPI's original SmartLink, "smart cabin" CMS which became the standard by which cabin control systems are measured.  With thousands of installations and 35 years of aviation innovation, our CMS products have been time-tested and continuously supported, which no other manufacturer may claim. DPI Labs Cabin Management Systems may be found on numerous  Head of State, Commercial, Private, Military and VVIP aircraft including Air Force One, where there can be no question as to reliability and quality. SmartLink, "smart cabin" data buss, is the operating architecture for our integrated cabin management and entertainment system. SmartLink incorporates the best attributes of remote modules, minimum wire data buss, and internal relay systems and builds upon their strengths. The combination of low installed weight, high reliability, and internal system diagnostics are all incorporated into the SmartLink Cabin Management System design.
The SmartLink system has been proven to be the most reliable cabin management system with more than 20 years of service. Today's SmartLink is the industry's most advanced decentralized system architecture for integrated management of aircraft cabin systems including galley, lighting, crew, audio/visual components, entertainment systems, and cabin comfort control. The SmartLink family of hardware and software gives the customer and completion center the most advanced solutions coupled with extreme ease of installation allowing for absolute cabin control.
The SmartLink Advantage
Touch Screen & Physical Switches
Retrofit Designs
RTCA/DO-160G Compliant
RS-485 / C-can data buss
Prevents System-Wide Failures
Anti-Collision Watchdog Circuitry
Fail Safe Design
Self Diagnostic Capability
SmartLink Cabin Management Systems Product Information